12 Horrifying Weight Loss Techniques People From History Actually Tried
Every day it seems like there are more weird weight loss trends or insane exercise regimes that claim to be failproof ways to get thin. But these modern schemes – or scams – are nothing compared to the crazy historical weight loss techniques of yesteryear. From ingesting to parasites to only living off of sunlight, people in the past had some truly disturbing weight loss techniques, many of them dangerous.
To be clear, these techniques aren't exactly the same as weird diets where you only eat certain foods, or strangely specific beauty products that claim to create instant glow. These weight-loss regimens range from unusual machines to bizarre ways to encourage starvation, and none of them are safely effective. It goes without saying: don't try these at home.
Some of these methods are pretty ancient, and others are more recent, but these WTF fitness schemes all seem completely nuts to the average person. It just goes to show you that some things are worse than being fat. Read on to discover the weird and horrifying ways people have tried to slim down over the years.
Victorians Ate Live Tapeworms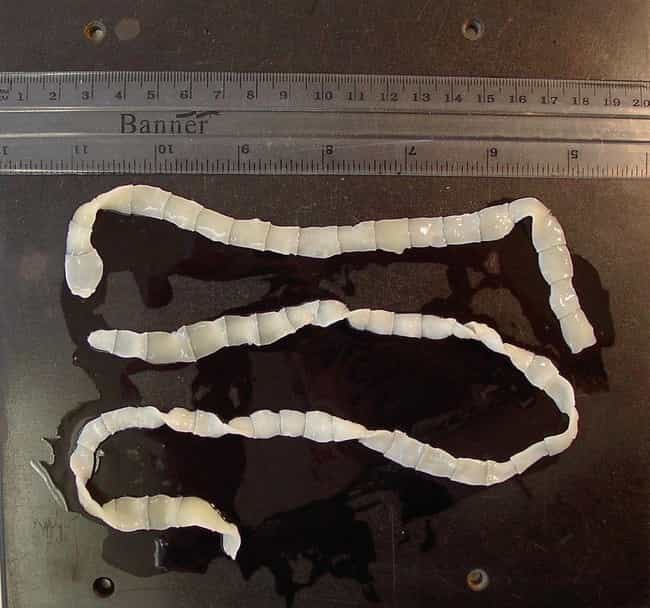 When a tapeworm gets into your system, it can make it very difficult for you to gain weight or get the nutrients that you need. In the Victorian era, people thought that this parasite provided the perfect way to help lose those extra pounds.
The method was a terrifyingly simple one. First, you ingested a tapeworm cyst, and waited for it to grow inside you. Once the tapeworm was big enough, you would begin to lose weight. But eventually, you'd need to kill that worm by taking anti-parasite pills or letting a doctor stick a metal instrument down your throat.
This procedure was uncomfortable as well as dangerous. You could get rectal problems from passing the worms, you could develop epilepsy and dementia, and you would feel abdominal pains the entire time the worm was inside of you. Plus, tapeworms can grow to be 30 feet in length – not something you'd want stuck in your body.
Edwardians Received Daily Enemas
John Harvey Kellogg is perhaps best known for inventing corn flakes, but he also had quite a few ideas about health and weight loss. Around 1900, you could visit his sanitarium for a strict daily regimen focused on personal wellness. Treatments included hydrotherapy, electrocution, and a carefully monitored diet. His most eyebrow-raising treatment, though, was his espousal of daily yogurt enemas to encourage the development of flora in the intestines.
Ancient Hindus Lived On Only Sunlight And Air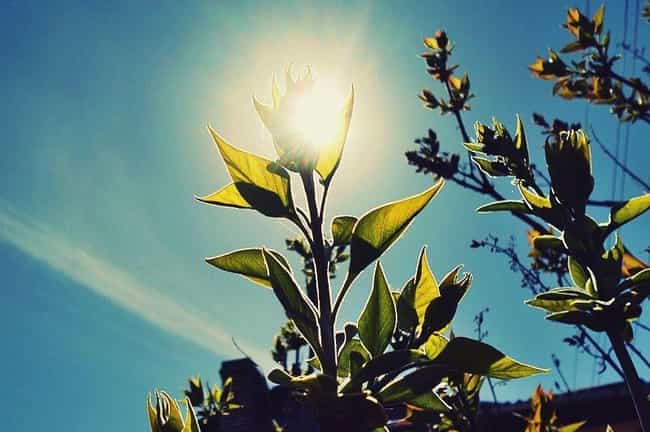 Breatharianism is the belief that one can live without food. It stems from some Buddhist and Hindu beliefs, but in more recent centuries, it has been used as a means of losing weight. Instead of eating, this way of losing weight says that you can live on only sunlight and air.
This spiritual method of dropping pounds is more than a little dangerous. You don't take in nutrients, it's easy to become dehydrated, and your metabolism will be shot. No matter what names you attach to it, this method is deliberate starvation. People have even died while trying this diet.
Victorians Poisoned Themselves With Arsenic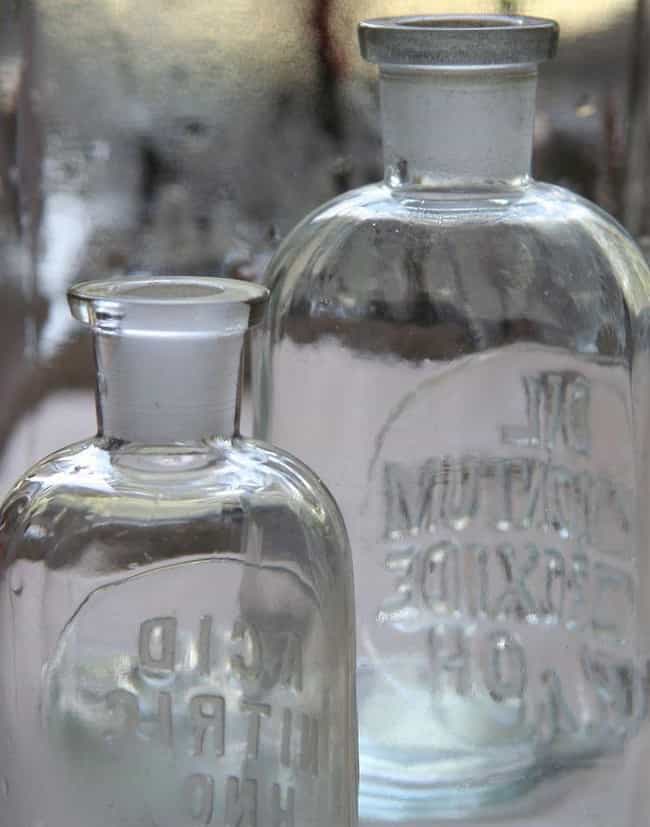 Arsenic is a very deadly poison, but it doubled as a weight-loss aid in the nineteenth century. Pills and other "medicines" that included arsenic were advertised as a means to raise your metabolism, so you would burn off the calories even faster than normal. Instead, you could wind up with pretty severe arsenic poisoning.
Worse still, many of these products didn't mention arsenic was an ingredient. People ended up poisoning themselves without even realizing it.
Turn-Of-The-Century Dieters Would Chew And Spit Out Food
Horace Fletcher was a dieting enthusiast around 1900, and he believed the best way to lose weight was chewing food a lot. This lead to him being nicknamed "The Great Masticator."
The basic concept of this technique is, instead of eating, you just chew your food, enjoy the taste, and then spit the food back out again. Besides the ick factor, this means that you're not actually getting any food into your system, so you don't gain any weight. Of course, no food also means no nutrients, which means your various systems don't get what they need in order to run properly.
This questionable method has been around a long time, and it's still sometimes practiced today.
 Flappers Smoked Lots Of Cigarettes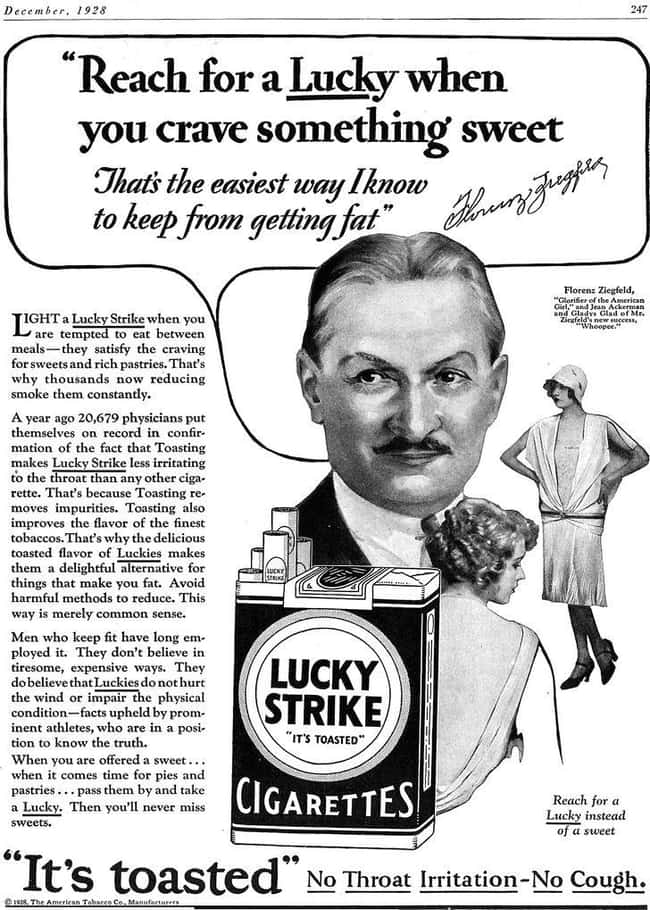 In the 1920s, Lucky Strike and other cigarette companies began putting out ads that claimed smoking cigarettes would help you lose weight. They correctly thought that this could convince more women to smoke.
Smoking cigarettes can curb the appetite, but the habit comes with an increased risk of cancer and other illnesses. Any weight loss while smoking may also be temporary – weight gain is a normal side effect when someone quits cigarettes.
Jazz Age Women Tried To Wash The Fat Away With Soap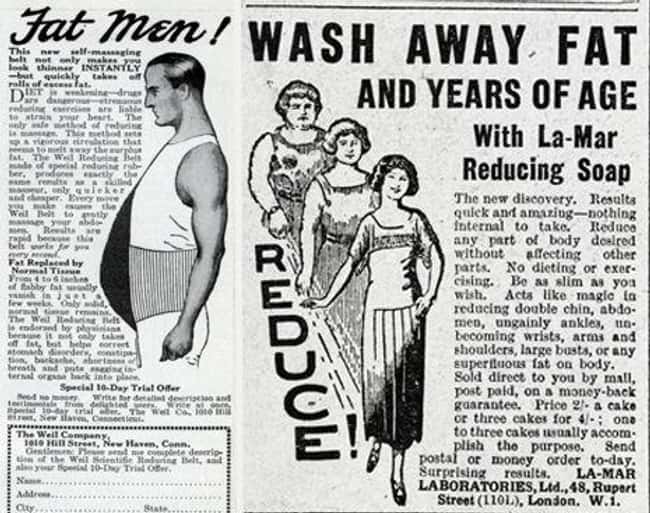 Wouldn't it be nice if you could just wash away the extra pounds with a simple bath? In the 1920s, women started believing that they could do precisely that. La-Mar Reducing Soap offered to get rid of fat around the ankles, banish double chins, and even decrease your bust if you found it too big. All these claims were backed by a chemist who really had no experience in weight loss at all. Soon, other brands of weight-loss soap were popping up.
If it sounds too good to be true, that's because it is. None of these soaps really worked, and while clients found themselves squeaky clean, they did not end up any slimmer.
1950s Housewives Went To Machine-Filled "Reducing Salons"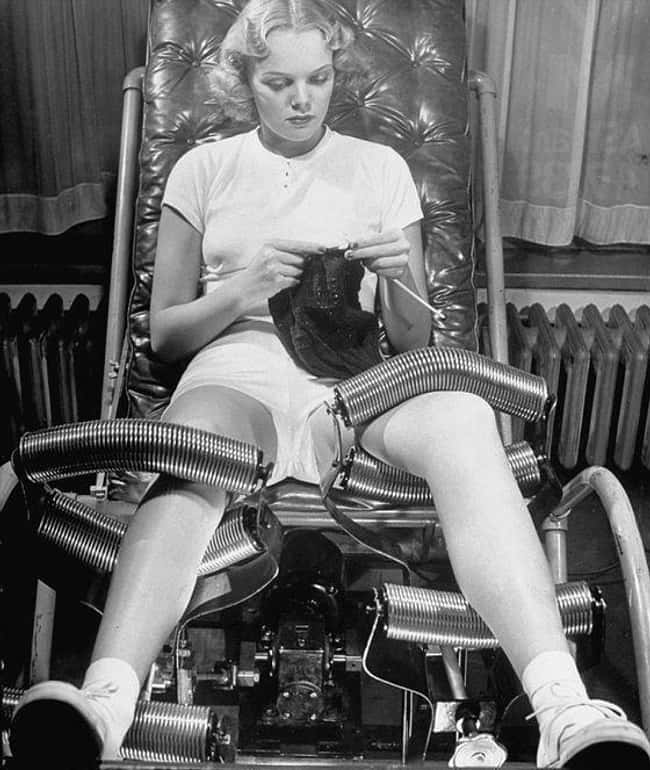 When you think of beauty salons, you probably imagine people having their hair styled and nails buffed. But in the first half of the twentieth century, beauty salons were a lot more like torture chambers. In these reducing salons, as they were sometimes called, women would have the choice of going to various machines meant to get rid of fat, lumps, and general unshapeliness. Some of these machines would stretch you, some would roll things over you, and some would even electrocute you slightly.
The reason you don't see many of these inventions anymore is that the vast majority of these machines simply didn't work. In fact, some of them were even harmful to your health.
1920s Men And Women Squeezed Into Rubber Corsets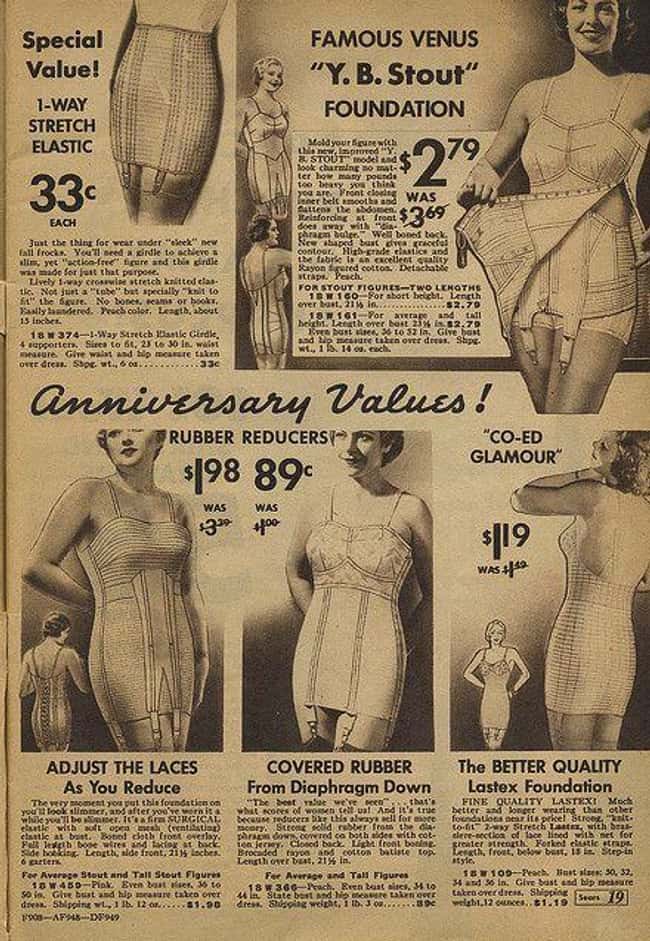 Corsets have a long history in connection with slimming down. Older undergarments compressed your ribs and lungs with whale bones or steel rods. The trend later continued with the "modern" corsets of the 1920s, which included rubber models.
These girdles and corsets were made for both men and women, and they offered to reduce your fat and slim your figure, all while holding everything in. Unfortunately, the rubber would rub your skin and make you sweat, and wouldn't actually promote weight loss.
1970s Dieters Wore Inflatable Sauna Pants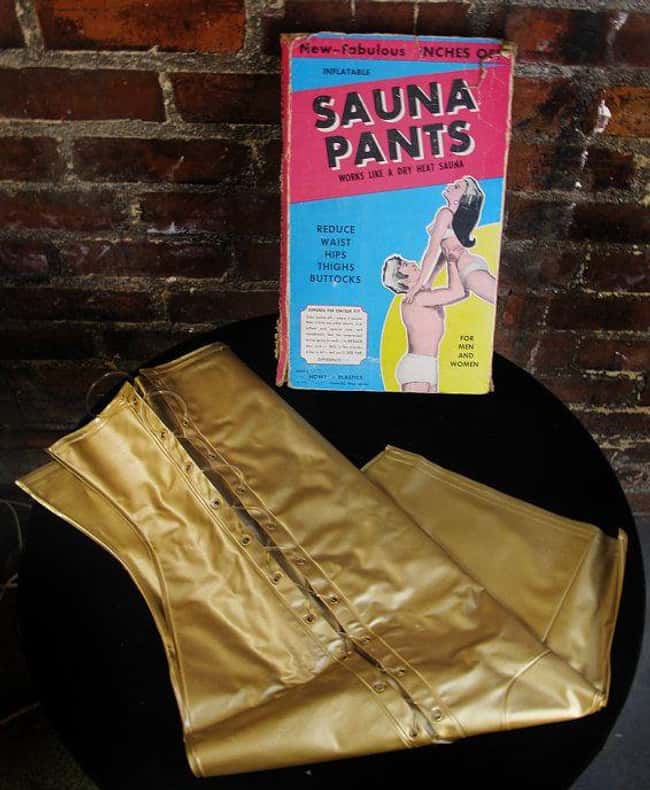 Would you believe there were multiple brands that latched onto this weight-loss craze? Sauna suits were used during workouts, with the idea that they would promote more sweat and increased weight loss. In reality, you'd be losing water, which means you'd be dehydrated and not actually any thinner.
In the 1970s, inflatable sauna pants took this notion one step further. These balloon-like garments came with the claim that they could shave nine inches off of your waist, just from being worn daily. Of course, that turned out to be false.
Mid-Century Women Strapped On Vibrating Weight Loss Belts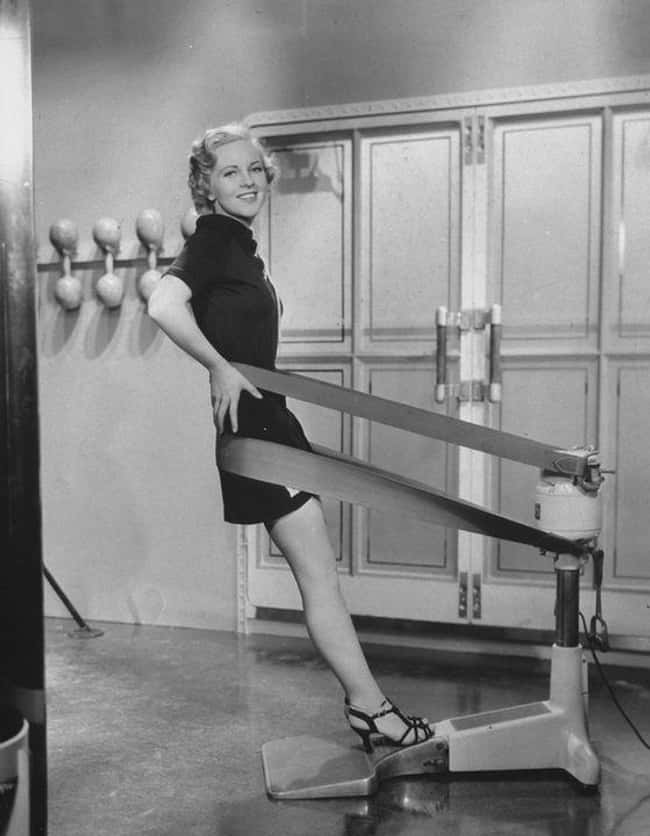 If you've ever looked photographs of old fashioned weight loss devices before, you've probably seen this machine in action. It was invented in the late 1800s, but became popular in the 1950s. The device was simple: put the belt against whatever part you wanted to slim down. Then you would turn it on, and its jiggling vibrations would supposedly melt the fat away.
Women and men both used these machines, and the results were minimal at best. People didn't see much weight loss or reduction of fat. However, more recent studies have found that the machines and their vibrations could still be good for your immune system, even though they won't help you lose weight.
1920s Weight-Loss Fanatics Listened To Special Music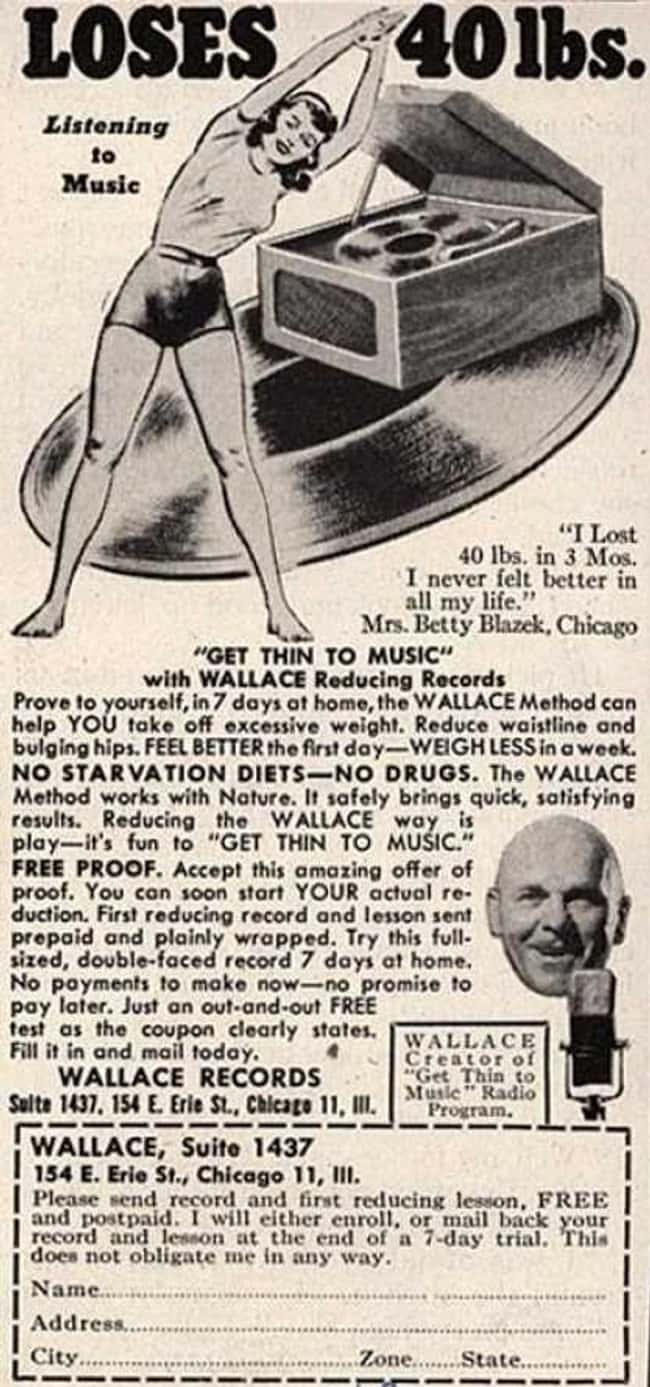 Wallace M. Rogerson was an exercise expert during the 1920s, and he had some pretty unique ideas as to how to lose weight. One such idea was the Wallace Reducing Records, a set of records that supposedly would help you lose weight. The exact use of these records is unclear, but apparently you were supposed to just listen to the music to slim down.